On June 9, 2017,

Liberation

New J6 Glory went public. It has a brand-new J6 with six major innovations and 75 upgrades. It inherits the outstanding genes of J6 and fully meets the comprehensive demand of users for Dora Run.

In addition to applying the new high-tech elements of new technologies, new processes, and new configurations, the new all-in-one J6 is equipped with a matching tire , the Chaoyang Tire AZ565, which has also become the focus of attention. !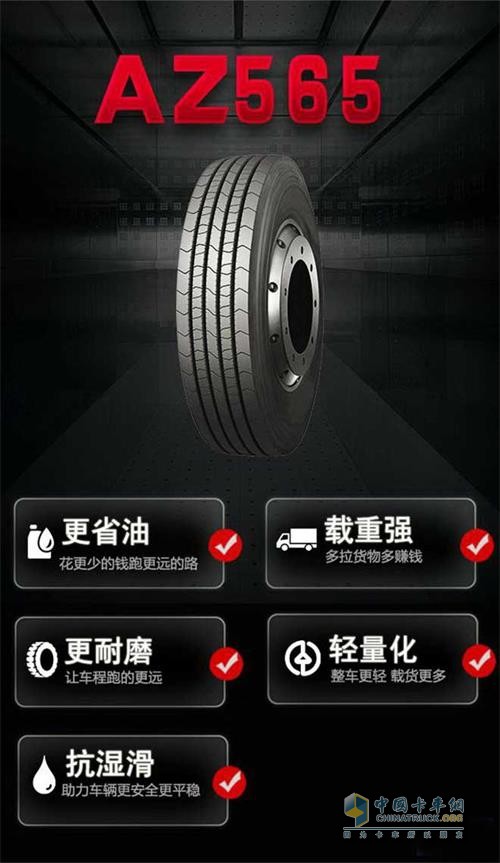 J6's Heavyweight Chaoyang Powers AZ565's Most Powerful Heavy Truck of the Year

Spend less money to run further

The 500 horsepower CA6DM3 engine of the new J6 is equipped with eight core technologies such as high-efficiency combustion control and low friction to achieve higher power, lower fuel consumption, and lower noise. The new J6 with the Chinese strategy tire AZ565 uses a unique new technology to reduce the tire rolling resistance coefficient, about 10% lower than the average tire market, making the new J6 vehicle fuel consumption is greatly reduced.

The vehicle is lighter and carries more cargo

The new J6 achieved 15 lightweight upgrades. While ensuring the bearing capacity, the vehicle's weight dropped to 8.3 tons, which is the lightest in the same horsepower segment. Among them, Chaoyang Tire AZ565, which is equipped with J6, adopts a new type of ultra-high strength steel wire and unique belt design, which greatly reduces the weight of the tire and is 5% lighter than the ordinary products in the market. The unique belt design is better than ordinary tire strength. With the increase of 3.5%, the new ultra-high strength steel wire will increase the strength of the carcass by 21% compared with ordinary tires, greatly improving the safety performance of the tires. The helper J6 is more suitable for long-distance high-speed transportation, and fully meets the needs of the fast logistics industry, "Dora Run".

Let the drive run farther

Liberation of the new J6 inherited the outstanding genes of J6. The FAW Liberation R&D team conducted a real-time survey of the new J6 on a million-kilometer road. AZ565 has withstood extreme environmental tests such as the plateau, alpine and high temperature. The matching pressure-imprinting design of Chaoyang Tire is used to ensure that the pressure distribution on the tread is evenly worn and the service life of the tire is improved. The patented CBOT belt optimization technology improves the durability of the tire by 5%, which greatly improves the ability of the tire to resist crown burst and bring about more. Long mileage.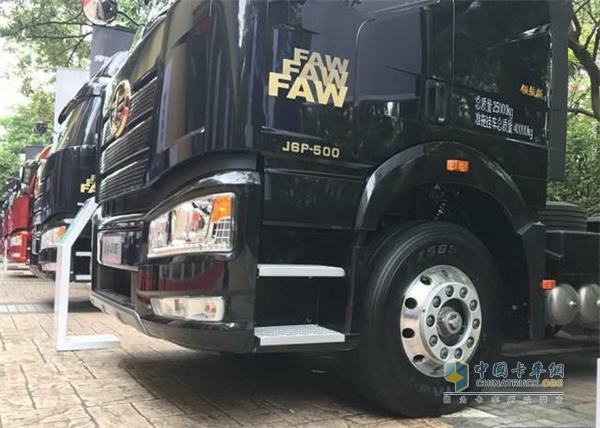 Liberate the new J6

Helping the safety of vehicles to be more stable

The new J6 has added 12 new security technologies to enhance the reliability of J6 products and ensure the attendance and operational efficiency of vehicles. Chaoyang AZ565 unique new contour optimization design, effectively improve the tire handling performance, longitudinal groove and new contour optimization design - to help drainage - to improve wet grip performance and handling performance.

The wear resistance, wet skid resistance, and rolling resistance of tires are mutually restricted and it is difficult to improve at the same time. In order to enhance the green capabilities of the J6 models, China Strategic AZ565 broke through the Devil Triangle and obtained EU certification.

Strong alliances, hand in hand

In 2016, it was the 60th anniversary of the release of the first liberation car. Zhongce has been focusing on the tire industry since 1958, and it has developed over 60 years of development. It fully demonstrates the two sides as representatives of national brands and is committed to leading the development of the industry. Determination.

Sinochem Rubber Group established a cooperative relationship with the same Auto Group in 2008. In the past ten years, it has ties with FAW Jiefang Automobile Co., Ltd., FAW Jiefang Qingdao Automobile Co., Ltd., FAW Jiefang Automobile Co., Ltd. Chengdu Branch, and Shanghai Pudong FAW Liberation. Subsidiaries such as Special Vehicle Co., Ltd. maintained a good supply relationship and were well received by users.

This Chaoyang Tire supporting the liberation of the new J6 is another milestone in the cooperation between the two parties. After several rounds of technical exchanges and negotiations with Sino-Chemical Rubber and Automobile Liberation Automobile Co., Ltd., it finally reached the standard tires of Chaoyang brand No.1 tires of Zhongcei Rubber as the standard tires of the high-end models J6 and J7 released by FAW, involving 315/80R22.5, 295/80R22. .5,12R22.5 Three tubeless specifications.

At the same time, it represents the national brand of China's road king, and the most reliable, safest, and lightest J7 has already gone offline. As a standard brand, Chaoyang Tire also successfully completed the test. The strong combination of the two brands will enhance the quality of FAW products and provide end users with safe, high-quality and most suitable money-making machines.

Features:

1. Using high-performance servo motor to yarn guide, make the linear velocity reach over 800m/min, even reach 1800m/min, production efficiency will multiplied and reduce cost.

2. All-round intelligent control technology instead of mechanical structure, let machine performance reach the international advanced level, it's easy and convenient for operation.

3. Intelligent tension device, active unwinding device, automatic tracking overfeeding system, assure stabilization of shaping.

4. Yarn breaking device and length count device, use encoder to detect and control speed, promise the yarn produce consistency.

5. Using brushless motor driving, adjusting forming length and trimming angle intelligently, soft edge density is controllable, ensure yarn forming density uniformity.

Technical Parameter:


| | |
| --- | --- |
| Number of spindle | 48 spindles |
| Spindle gauge | 360mm |
| Linear velocity | 200-1800m/min |
| Tensioner | electronic tension with clamp tension |
| Traverse | 130mm-260mm |
| Slide angle | 0º-60º |
| Rated power | 400W |
Soft Winding Machine,Coil Winding Machine,Wire Winding Machine,Bobbin Winding Machine

ZHEJIANG KAICHENG INTELLIGENT MACHINERY CO.,LTD , https://www.kaichengtex.com