In 2013, the Central Document No. 1 proposed that "encouraging enterprises to build rural production and living infrastructure through various investment methods" vigorously promote the construction of new rural areas. In this year, Xugong Shi Weiying also actively responded to the call, conducted in-depth market research, focused coverage. Over 800 million rural people and more than 40,000 villages and towns in the building of a new socialist countryside, smart and portable "town fairies" series of concrete machinery products have been introduced, which will help change the face of townships and speed up the country's urbanization around new rural construction. The rate of improvement has provided product services. Once the products were launched, nearly 80 units (sets) were sold that year, and the number of orders showed a rapid growth trend. In the eyes of a large number of users, "Town Fairy" is a "wealth-saving weapon" that not only saves money and labor, but also effectively and stably "tall". The goal is not far away.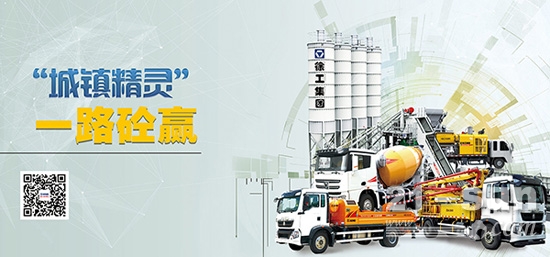 Town spirits win all the way


"Urban Genius" is a "small set" of sub-markets for Xugong Concrete Machinery, and it provides a complete set of construction solutions to the user in the direction of "Urbanization and Development." The complete set of products mainly covers three major categories of products. The pumping products are strong on the basis of the original 23-meter and 26-meter pump trucks to create a wider range of 30-meter and 34-meter pump trucks for operation. The concrete is mixed on 4 and 6-square meters. The transport vehicle has fully entered the "National Five" environmental protection era, 40 and 60 and other mixing station products are also closer to the needs of users.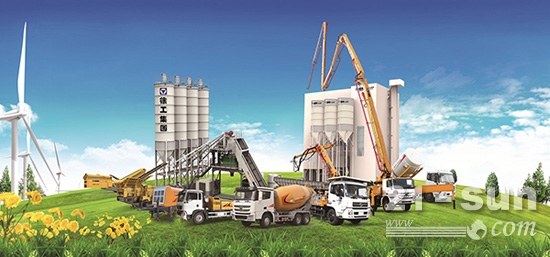 "The Town Fairy" mainly covers three major categories of products


"Don't look at this small set of 'Everyone's product'. The product can be quite small! The product designer of XCMG is proud to introduce it. "Simply put, it is mainly reflected in the words "provincial, light, and easy." "Province" is the point that the product users are most concerned about: pumping efficiency has increased by 6% – time saving; engine power output status Smooth control, hydraulic integrated control reduces pressure loss, energy consumption is reduced by an average of 20% - fuel saving, 40 and 60 mixing stations adopt a modular design concept to help users easily achieve assembly and transport - effort. "Light" That's us The successful application of the 'lightweight technology' accumulated by Xugong over the years has been applied to this 'town spirit': the core hydraulic components are reduced in volume and weight by 50% on the basis of integrated control technology; 4 and 6-way mixers are used With the new materials, the weight of tops is reduced by 10%, and the service life is also increased by a factor of 2. "Yi" is mainly for the user's operation and construction requirements, and the reversing buffer is optimized, and the impact on the vehicle body when pumping the pump is reduced by 60 %, The boom work is more stable, and it is easier to ensure the construction quality. The vehicle of the mixer truck adopts the concept of 'narrow body design' to fully adapt to the transportation and construction conditions such as narrow roads and narrow bridges. The mixing station is equipped with safety protection and intelligentization. mention System, related faults can be easily displayed through the display screen to remind the user." "In addition, we also adopted a low center of gravity design method on the mixer truck to increase the mixing load volume by 6%. While meeting the requirements of national standards, Through technological innovation, it fully meets the user's desire to do more.


German technology, dual-purpose machine, is such a "tall"


Do not look at the "town spirit" so "ground gas", but people are "Chinese and German mixed blood", Xugong "S9" series of many advantages, it is as much.

Full hydraulic commutation technology, durable and reliable - fully integrated with German Schweing full hydraulic commutation technology, the commutation signal extraction and control are all completed by hydraulic pressure to avoid frequent electrical triggering and reliability problems caused by harsh environments; pumping the main valve The spool-type parallel double-circuit main valve eliminates high pressure loss and high failure rate of the differential-mounted single-loop main valve, and has high reliability. At the same time, the MPS commutation buffer technology unique to the matching industry reduces the commutation shock by 80%. The pump life is increased by a factor of 2, and the failure rate of hydraulic components is even lower.

Skip valve pumping technology, efficient and stable - torque design, reliable sealing, no leakage of the plasma; eyeglasses, cutting ring life is greatly improved; unilateral wear, wearing parts to achieve high life of S valve 2 times; large streamline Shaped cavity design, small pumping resistance, not easy to block the pipe, the pumping efficiency is higher than the industry average of 6%.

There is a dual-purpose machine, the industry's first - a dual-purpose machine? You also have to believe that Xugong Shi Weiying's industry-first variety of products can be regarded as "the number of small meters pump trucks can be used for on-board pumps," not only to meet the construction needs of low-rise buildings in cities and towns, but also to be able to take over 100 meters. High-rise building tasks. Perfectly equipped with a heavy-duty-manhood engine, the engine is powerful and full-powered, which avoids the embarrassment of the industry's individual manufacturers "small horse-drawn carts" and is absolutely a conscience.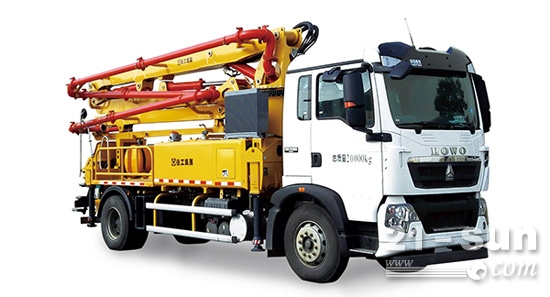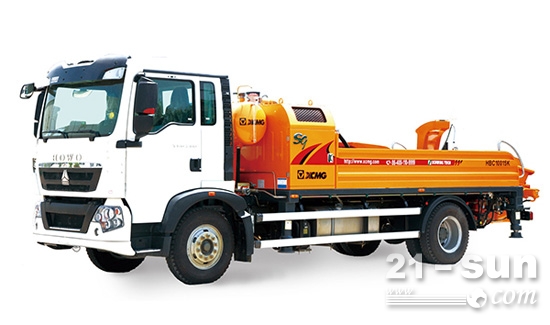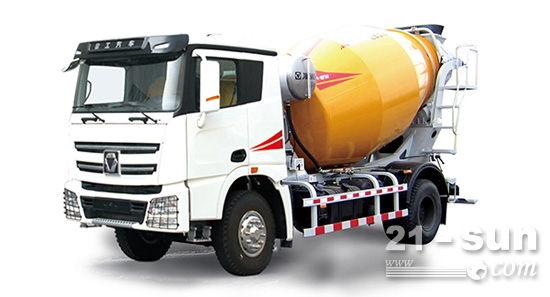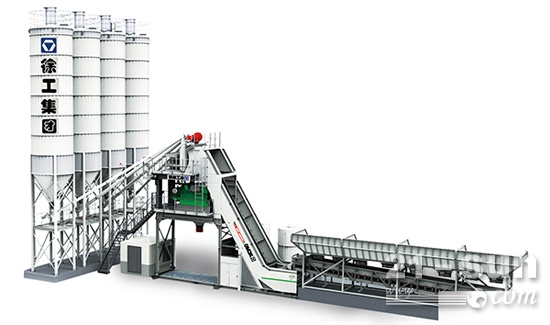 "Town Fairy" series products


In the four or five years, the country's new countryside has been developing rapidly. "Now, Guangdong, Guangdong, Guangxi, South China, and Xinjiang, etc., Xugong's series of urban spirits are blooming all over the country and even exported overseas, and they are recognized by many users. I think At the same time, our hard work and sweat that took root in the market are worth it!" recalled the leader of the R&D team responsible for the series of mixing plant products.


Nowadays, the praise and recognition gained by XCMG is based on the wisdom and passion of the team. It originated from the strong accumulation of technology, manufacturing, and marketing fields of XCMG for many years. It originated from lean production, Six Sigma tool methods, and industry-leading quality standards. Equipment support is derived from the relentless pursuit of Xugong's "Golden Technology Leading and Unbreakable" gold standard. (This article is from Xugong)

Related news: Xugong Town Wizard Complete

Container Crane is a dedicated crane for handling containers at sea port, wharf, harbor, railway container yard, etc. A container crane can a Rail Mounted Gantry Crane ( Rmg Crane ), a Rubber Tyred Gantry Crane (Rtg Crane), a railway freight container crane, a container straddle carrier, a portal crane or a STS, etc. The most commonly seen container crane is the RMG crane.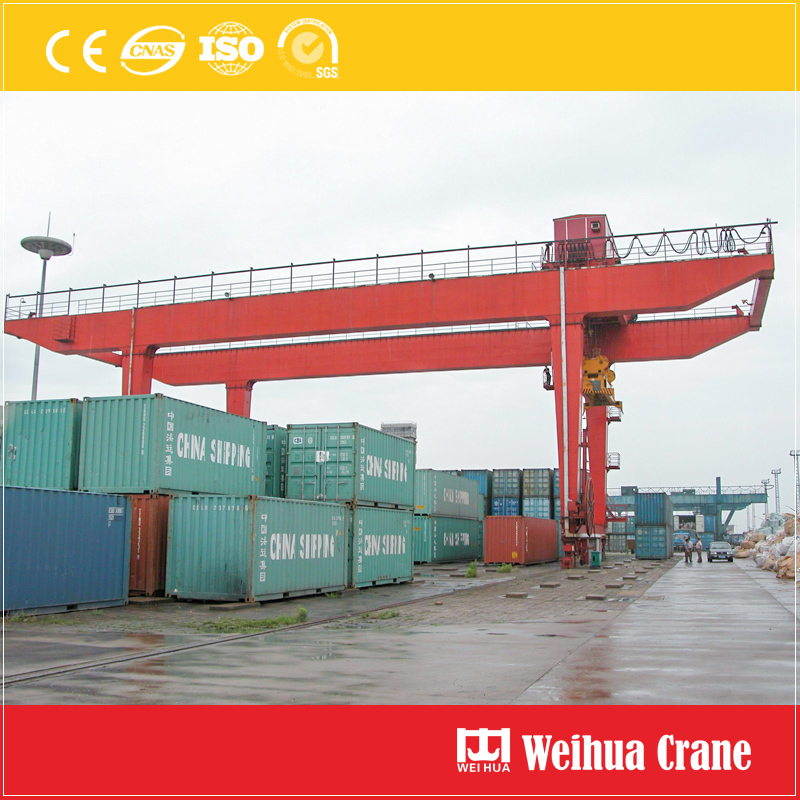 The conainer crane made by Weihua is fully automated with the following features:

1. U type gantry structure, stable running, large working space.

2. Rotatable hoisting trolley and spreader. The trolley can rotate 270° and spreader can rotate 360°.

3. Electrical anti-sway system with smooth handling and precise positioning.

4. The cantilever design can be single cantilever, double cantilever, and non-cantilever.

5. Low lifting speed for low lifting height. High crane traveling speed for long-track container handling. The trolley traveling speed depends on the span and the outreaching distance of both sides of the girder.

6. Electrical drive-control system adopts thyristor speed regulating drive AC or DC control system to meet the higher need and accomplish a better performance of speed regulating and control.

7. Digital frequency conversion and PCL control.

8. High Precision Sensor Data Acquisition Technology.

9. Industrial computer data analysis and processing system.

10. Touch screen real-time displays the working condition.

11. The control system temporarily receive plug-in jobs.

12. Intelligent control system adjust the spreader position and deflection angle to realize accuracy locking and precision container stacking.

13. Equipped with PDS system.

14. Programmed path planning and obstacle avoidance technology.

15. Infrared space scanning carry out real-time scanning of yard container storage situation.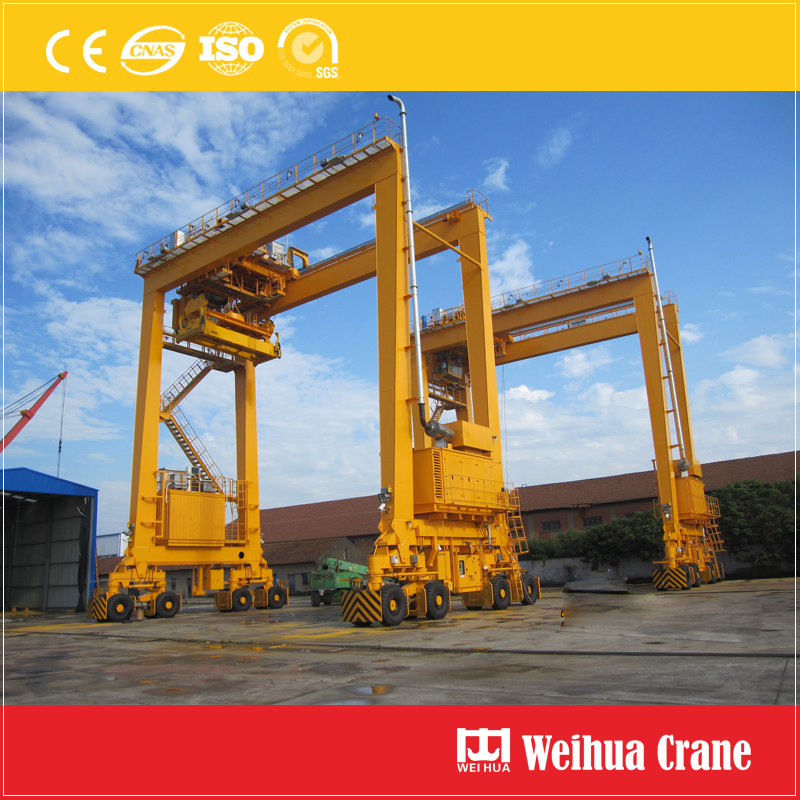 Weihua cranes have exported to 110 countries with a lot of praise. Welcome to visit Weihua and we have confidence to provide you with the right crane products and professional solutions.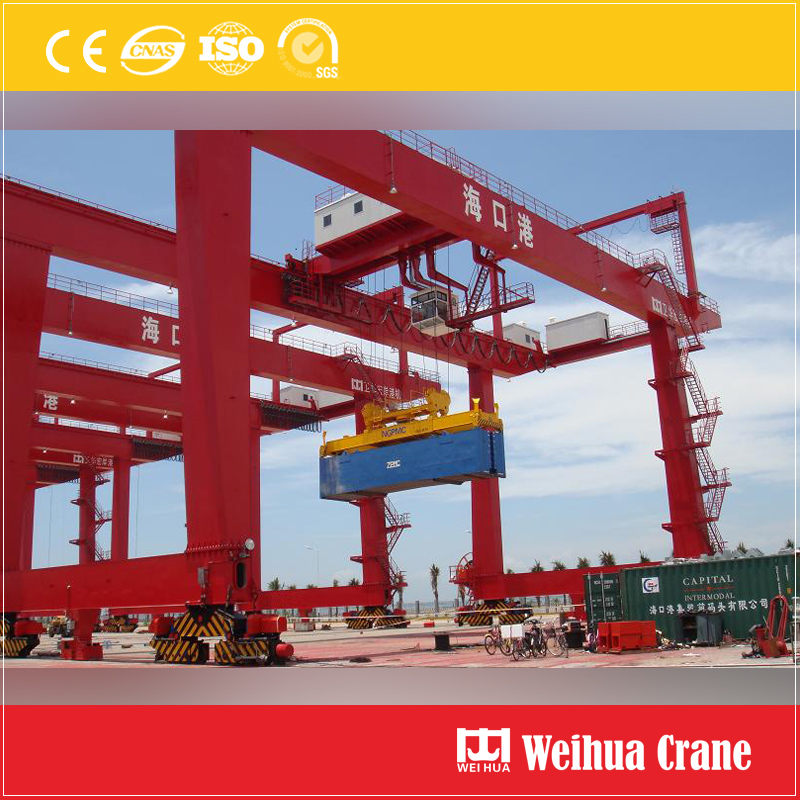 Capacity: 35t - 40t

Span: 30m or custom

Lift height: 16m or custom

Work duty: A6 or custom

Spreader: rotatable container spreader

Packing: wooden case, rain cloth, reinforced bar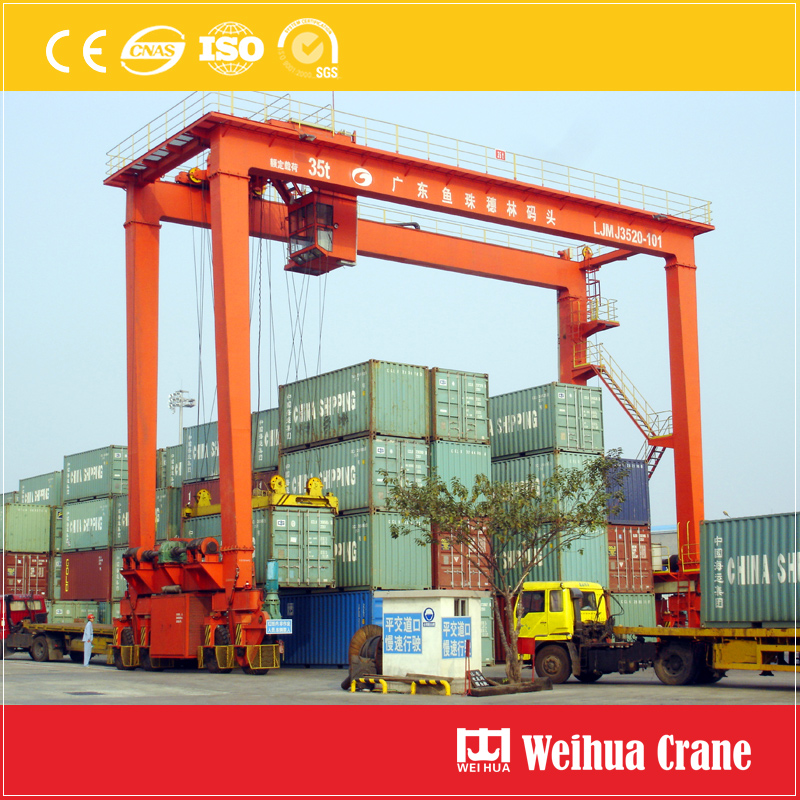 Container Crane

Container Crane,Container Yard Straddle Carrier,Container Straddle Carrier At Port,Rmg Container Crane

Henan Weihua Heavy Machinery Co., Ltd. , https://www.weihuacranefactory.com